1 in 3 party drugs in New Zealand are not what they are claimed to be.
The aim is to encourage more people, young adults in party settings in particular, to test their drugs. In early 2018, 13 people at one festival were hospitalised due to cathinones in their party pills. Every year stories like this surface.
"I don't endorse car crashes, but if somebody's gonna crash, I want them wearing a seatbelt." — Chlöe Swarbrick MP | Green Party of Aotearoa New Zealand (October 2019)
Harm minimisation allows people to make better decisions should they decide to take drugs in the first place. It tells them if there are dangerous chemicals in their drugs, preventing hospitalisations and death.
Existing testing can be a difficult process and is therefore under utilised.
To accurately test for harmful drugs you need to add a drop of 3 different chemical reagents to a sample of the drug and watch for the colour change reactions. In existing kits, this is done with liquid droppers, trays, and multiple expensive (and indiscreet) bottles.
Discreet. Intuitive. Easy to use.
The Sussed kit is no bigger than a pack of gum — it can even tuck away into a wallet. The reagents are neatly and safely contained in rows of shallow dimples. There are three different reagents in each test, making it easier to eliminate the possibility of lethal chemicals in the substances being tested. Just sprinkle a tiny bit of the party drug into the dimples and watch for the reaction.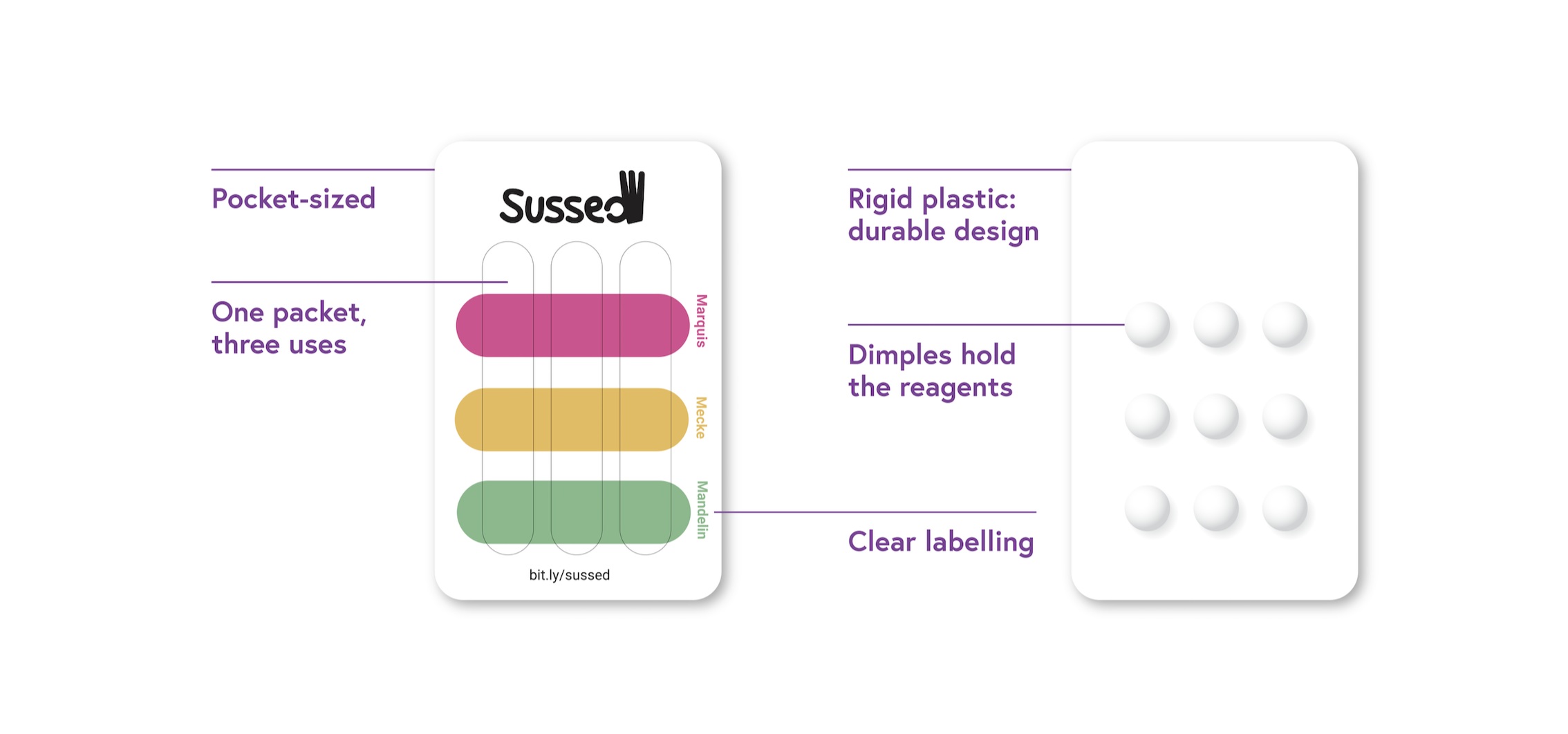 So you see a change of colour? What does it mean?
Instructions regarding the colour change on existing drug testing kits are difficult to follow. Information is spread across multiple websites and uses overly scientific language which is challenging to interpret.
It is unintuitive and extremely confusing, stopping people from testing all together.

The Sussed web based testing interface makes testing a painless experience and more accessible than before.
The language is more straightforward and suited to the target audience. The interface guides the user through the testing process step-by-step. It provides information instantly about the substance the user has, allowing them to make informed decisions about whether or not to take the substance.